Boxing Instructor: Cody Arrowsmith
Personal Trainer | American Boxing Certified | USA Boxing
Looking for Boxing classes, a Boxing gym or a Boxing Trainer "near me"?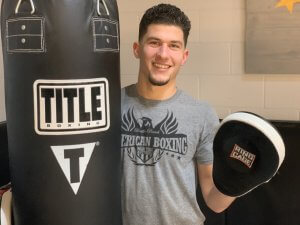 Well, look no further!
For an amazing and positive Boxing experience, American Boxing's featured morning Boxing Instructor Coach Cody Arrowsmith is who you are looking for.
Coach Cody started his Boxing Education in 2010 at South Shore Boxing Club just outside of Boston Massachusetts. In 2012 Cody moved to San Diego where he began his competition training and fitness education with USA Boxing Coach and Master fitness trainer Coach Dave Nielsen. With Coach Dave, Cody started his undefeated amateur Boxing career and education in fitness boxing.
In 2013 Cody returned to the Boston area where he attended Barber College.
While in college, Cody returned to South Shore Boxing where he continued his love and education of Boxing with Kippy Diggs former WBO World Champion.  With Coach Kippy, Cody continued his undefeated amateur career.
In 2019 Cody returned to his 2nd home, San Diego where he works as a barber and continues his Fitness and Boxing Education with Coach Dave, teaching early morning classes and private Boxing lessons for men and women in Pacific Beach.
CODY'S FAVORITE BOXING COMBINATION:
Well, I love going to the body, so keeping it simple I would say jab, jab, cross, hook upstairs, then, drop down for the hook to the body, slip and get out…basic, strong and effective.
HOW HAS BOXING BENEFITED YOU THE MOST?
Honestly a few ways.  Competition really helped me to have the perspective that no matter how bad things can go, just like a bad Round of a fight, it will end and you will get another chance.  Life is like a Boxing match with endless rounds and chances to become a Champion…all you have to do is keep getting up.  "Quitters never win and winners never quit" as Coach Dave says.
Another two significant ways that I think most people will also relate to, is discipline and fitness. When you are in your early 20's and you don't necessarily think about you're health or fitness…you're really riding youth. I highly suggest everyone try a boxing class some time!  You will learn two things: 1) Boxing is very fun and 2) You are in worse shape than you thought.haha
THE REASON YOU STARTED BOXING?
I played football, basketball and baseball growing up and I loved watching all sports, especially Boxing.  Boxers have amazing fitness and are in amazing shape…honestly, in my opinion, they are the most fit athletes in the world.  I was never one to get into fights or anything like that, but I like being in shape and I love sports, so, after high school, Boxing just made sense to try…and I loved it!
5 WORDS THAT DESCRIBE YOUR TEACHING STYLE:
Patient. Relaxed. Fun. Positive. Effective
OTHER ACTIVITIES AND HOBBIES:
Well, I'm a barber also, so I love cutting hair.  I love watching sports and I enjoy RnB and Hip Hop.  Coach Dave keeps trying to get me to go surf with him, but I don't know, it's cold and I know there's sharks out there.lol
Interested in Training with Coach Cody?  Call or text 858.581.2694 now to schedule your first session.