Kids Boxing and Martial Arts Classes | Outdoor I-5 at Mission Bay San Diego
Improved Confidence | Respect and Fitness.
We teach children of All-Ages, Muay Thai and Boxing to help improve their self-confidence, ability to focus, ability to defend themselves, sports enhancement and fitness.
THERE IS NO DIRECT PUNCHING THE HEAD.
Some children are ready for classes and some are simply better suited for Private Lessons, that is for you to decide with Coach and former WBC Muay Thai Champion Kru Dave after meeting with you and your family during a complimentary evaluation (complimentary for ages 5 and up).
CONTACT FORM
Text us "Kids Special Offer" now @ 858.581.2694 and be eligible to receive:
Free Boxing Gloves
Free American Boxing T-shirt
First month of classes for only $49

With more than 20 years working with San Diego Youth, there is no better choice for your family than American Boxing.
American Boxing is proud to say we have experience with children with developmental challenges including but not limited to Autism, ADHD, Cystic Fibrosis, Spina Bifida and more.  With referrals upon request, we are happy to share our success stories of "never before" and 1st times from some of the best kids around.  Feel free to call or text Coach Dave for details @ 858.581.2694
You can expect to see the results from our youth Boxing and Muay Thai Kickboxing classes with a few short weeks of consistent training.
As peace loving Buddhist athletes, Muay Thai practitioners are LOVED for their kindness, FEARED for their abilities and RESPECTED for using their knowledge for fitness and sport and not as a tool for harm or shame.
Our style of martial art is called Muay Thai.  Muay Thai is the most popular style of kickboxing in the World and is used by professional athletes during off season due to its safety and excellent fitness, NAVY SEALS to ensure their combat skills are up-to-date and every day men, women and kids who just want to learn an excellent self-defense skill and get in great shape!
(We do not and will not tolerate Bullies in our school and help to council children in every day bullying situations.  Our kids are kind and respectful!)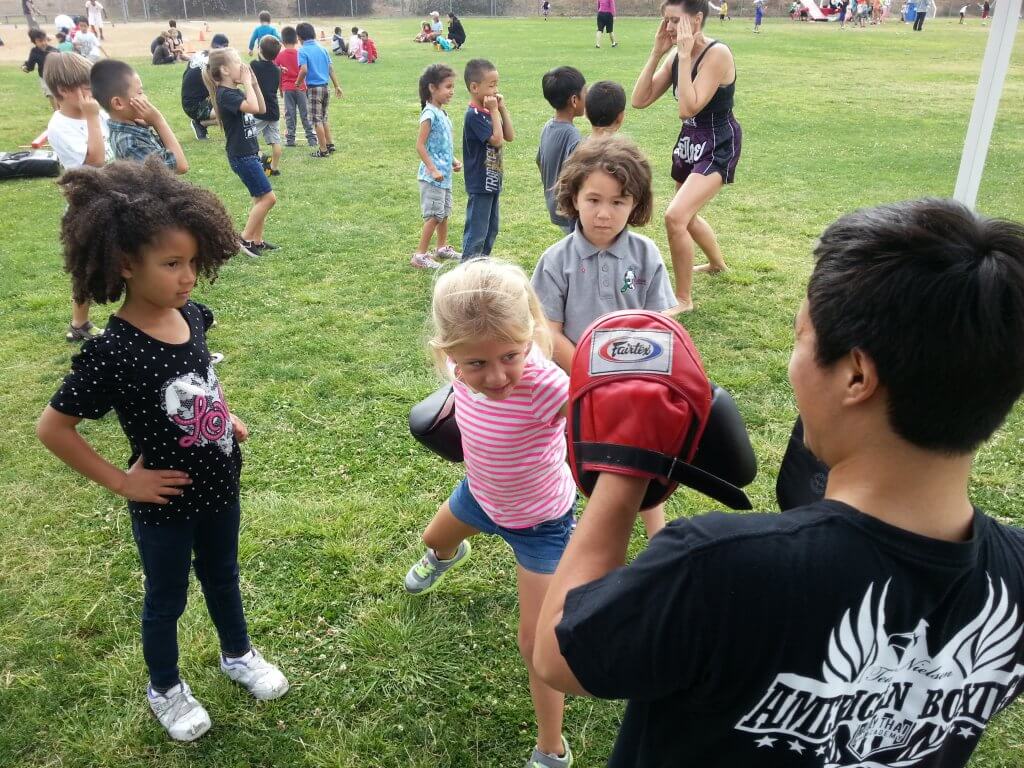 START YOUR SON OR DAUGHTER ON THE PATH TO CONFIDENT FITNESS TODAY! (Click Here!)
About Muay Thai:

Muay Thai is tied directly to Buddhism.  It is important to note, Buddhism is NOT a religion.  Buddhism respects ALL religions and people, regardless of their belief system.
Two fundamental principles of Muay Thai and Buddhism that we instill in our students and are mandatory for everyone to embrace and   implement in training with us are:
Respect.  For your teachers, elders and peers.
Never to use your strength against someone weaker. (A Thai boxer would never take advantage of someone weaker than them.  A Thai Boxer looks to always help those in need.)
"There are many more core philosophies to Thai Boxing and Buddhism, addressing community, family and more…I support you explore other non-gym websites in your research of Thai Boxing and it's deep connection to Buddhism…Muay Thai is a beautiful and all around effective art that builds a stronger/better/safer mind and body."
Thank you for considering American Boxing to Learn this amazing art 🙏🏼 ~Kru Dave
More questions?
Try our contact form!
We can usually get back to you right away!
(Click here!)
Some important things to note:
1) American Boxing caps all classes at 10 students so your son or daughter gets evaluated and trained based on him or her as an individual. That being said, it is important to realize that younger children are here to be exposed to older children who listen, learn, participate and show proper respect. They learn by modelling and exposure.  Be patient parents…look at our senior students when you come try a class and ask their parents about the journey.
2) Your child will never be left out like with other team sports!  We prepare your child to succeed in any sport, physically and mentally.
3) We have fun!
4) American Boxing Kids Programs is NOT FIGHTING! We do however support youth competition, as a goal. Coach/Kru Dave has a reputation nationally and internationally for producing some of the most technical and conditioned athletes.  Your son or daughter will not be required, expected nor pushed to compete…ever!
5) American Boxing provides a Free membership freeze during traditional sports seasons so children may play other sports…at the end of the season, their training starts back up! THIS IS BIG PARENTS!…Keep your kids busy, having fun, developing their coordination, hanging out with other student/athletes in a safe and controlled environment that promotes respect and hard work…while FUN!
Try a class and speak with other American Boxing parents and learn how:
Grades GO UP
Focus/attention/sports specific strength/coordination and more all INCREASES!
BEHAVIOR and RESPECT…are significantly improved in children that tend to have these issues and much much more.
Call or Text us now!
(858) 581-BOXING (2694)
Military moms…when dad gets deployed, we give boys structure, expectations and the discipline THEY NEED while dad is away! Trust us, you don't want a young man hitting puberty without proper structure and behavioral expectations established long before!  He might be your little angel now, but if any of you remember puberty, it's better to be prepared and not need it than need it and not be prepared!  An unstructured boy is a potentially dangerous young man.  Coach/Kru Dave was a Navy dependent to a father with a 30 year career….he understands!
Our San Diego Kids Boxing and Martial Arts Program Motto:
"We build Future Champions™ in life and sport!"
Kids Class Schedule
Call now for details! 858.581.2694
An appointment is required for your 1st class and arrival time is 15 minutes prior to class start time.
Please Inquire about your 1st Class Here!