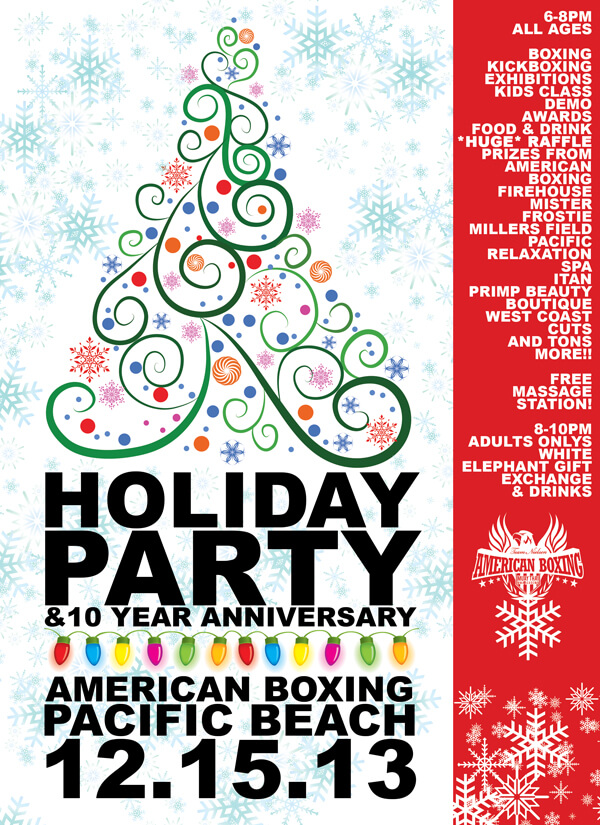 Hello Everyone & Happy Holidays!
On Sunday December 15th 2013 American Boxing will be celebrating it's 10th Anniversary as well as the return of its INFAMOUS Holiday Party!
Current and Past Students are ALWAYS Welcome!
Some of you may not know, but 10 years ago, in 2003, American Boxing was established…
It's been quite a journey!
Since moving to the new location across from Vons at 1735 Garnet, the infamous Holiday Party has been MIA.
This year we've decided to bring back the festivities and combine the Holiday Party with an Anniversary Party!!!
Here's what the festivities look like:
6pm-8pm ALL AGES
BOXING KICKBOXING
EXHIBITIONS
KIDS CLASS DEMO
AWARDS
FOOD & DRINK
*HUGE* RAFFLE THROUGHOUT
PRIZES FROM:
AMERICAN BOXING
FIREHOUSE
MISTER FROSTIE
MILLERS FIELD
iTAN
PRIMP BEAUTY BOUTIQUE
WEST COAST CUTS
and TONS MORE!!
There will be a FREE MASSAGE STATION and DJ throughout the festivities!
8pm-10pm ADULTS ONLY
WHITE ELEPHANT GIFT EXCHANGE & DRINKS
A huge thanks to our contributors:

iTan
Firehouse
Millers Field
Mister Frostie
West Coast Cuts
American Boxing
Pacific Relaxation Spa
Primp Beauty Boutique
A GRAND PRIZE will be a Vitamix "Blender" (~$400)
(You can make peanut butter in this thing!)
*All current members are FREE + 1 and will receive 1 Raffle Ticket
**Past Members are FREE and can purchase raffle tickets.
***Non Members/Guests will be asked to contribute a $15 donation.
****1 Child (10 or younger) per parent is Free with Parent Entrance
Remember, we start @ 6pm sharp and Adults Only after 8pm for drinks and White Elephant Gift Exchange!
NOTE: THIS IS A PRIVATE PARTY
PLEASE RSVP TO SO WE MAY GET A FOOD AND SEAT COUNT
to RSVP or any questions, email us: rsvp@americanboxing.net
PLEASE… No heels ladies!