Personal Training in Pacific Beach La Jolla and San Diego
Lifestyle and Fitness Training in Pacific Beach, serving La Jolla and San Diego since 2003.
Want to be happier and healthier?
Want more energy and functional Strength?!
Have injuries preventing you from living your Best Life?
Talk to Coach Dave IMMEDIATELY!
Call now or Schedule a Free Consultation (Click here)
Head Coach Dave Nielsen has been a San Diego personal trainer, Certified through the National Academy of Sports Medicine (NASM) since 2002, actively training clients Full-Time, making him legitimately a Master Fitness Trainer.
With more than 40 years of athletics from pee wees to college, 30 years as a health and nutrition buff and nearly 20 years as a full-time fitness professional and certified personal trainer, Coach Dave Nielsen has worked with countless men and women in the pursuit of health, fitness, lifestyle change, injury recovery, personal betterment, self defense, sports enhancement and of course competition goals.
Coach Dave's Expertise Includes but is Not Limited to:
Establishing Healthy and Fit Lifestyle Habits
Weight Loss (Short and Long Term)
Weight gain (Short and Long Term)
Sports Enhancement (getting to the next level)
Special Awareness Clients (spina bifida, cystic fibrosis, cancer, ADHD, ADD, Autism, spinal fusions, PTSD and more)
Muay Thai, Boxing, Jiu Jitsu
Injury Recovery and more.
Coach Dave has Experienced, Managed and OVERCOME the Following and can Help you!
Cancer
Compression fracture of C-5 (broken neck)
C6-T1 Degeneration with nerve damage into the arm into fingers.
Arthritis
Nerve Pain management (NO OPIOIDS, NO PRESCRIPTION MEDICATION!)
Labral tear (shoulder)
Disk Injury L5-S1 with Degenerative Disk Disease (substantial lower back pain significantly restricting motion)
Chronic Acid Reflux (more than 10 years)
Chronic Headaches (more than 10 years)
Chronic Fatigue (more than 10 years)
an X-wife (more than 10 years) (ha)
All this and at 45 years old, Coach Dave is one of the most fit, all-natural, athletic and active people you will meet that still eats ice cream almost daily, drinks the occasional beer and enjoys a good tequila.  Read his bio!
Entrepreneurs, Presidents & CEO's, Dr's, Attorneys, Special Forces Operatives, Brides and Grooms to-be, Die Hard Fitness Enthusiasts, Professional Athletes, young developing athletes and average every day goal oriented people from around the World, come to Coach Dave for his knowledge and experience…talk to him today and start on THE PATH tomorrow!
You will never regret making this call, speak with Coach Dave IMMEDIATELY! Call now (858) 581-BOXING (2694)
A few tools used by Coach Dave to help you reach your goals:
Western Boxing
HIIT (High Intensity Interval Training)
Kettlebells
Olympic Lifting and
Direct communication!
Schedule
Personal Training is available at any pre-determined time. Workout at 6am, 3pm, 8pm or ANY time in between! We understand that schedules can be hectic and we try to accommodate your fitness training to the best of our abilities.
About Us
Coach Dave Nielsen and his  trainers are Experienced and Professional Fitness Trainers using the following tools to help you reach your personal health and fitness goals FAST!
Kettlebells
Cross Training
Traditional Weight Training
Olympic Lifting
Resistance Bands
Boxing and Kickboxing
Muay Thai and MMA
Jiu Jitsu/Submission Wrestling
TRX
BOSU
HIIT (High Intensity Interval Training)
Cardio Equipment and more!
QUESTIONS? Text "Free PT Consultation" to 619-838-4883 now to set up your Free Consultation.
Here is a prime example of American Boxing Personal Training results:
April Powers was a 66 year old survivor of breast and kidney cancer who after her recovery from cancer, gained nearly 100 lbs.
After nearly 8 months of training with Coach Dave (pictured together below at her birthday party in 2002) April lost more than 80 lbs!
That is 80 lbs in 8 months and April did this only training Boxing and Muay Thai!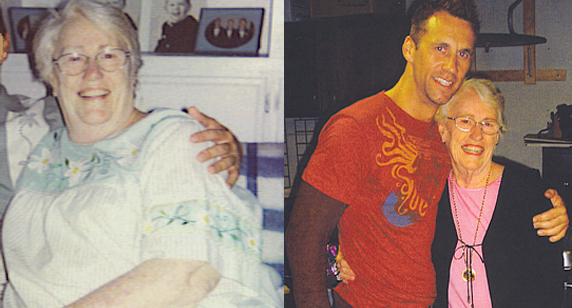 Click here to read some more of our testimonials and watch our video reviews.