Personal Training in Pacific Beach San Diego
Serving Pacific Beach, Mission Beach, Clairemont, La Jolla and San Diego tourists since 2003.
With over 35 years of athletics, 15 years as a full-time fitness professional and certified personal trainer, Coach Dave Nielsen has worked with countless men and women in the pursuit of fitness, goal focus & attainment, personal betterment, self defense, sports enhancement and of course competition goals.
Entrepreneurs, Presidents & CEO's, Special Forces Operatives, Brides and Grooms to-be, Die Hard Fitness Enthusiasts, Professional Athletes, young developing athletes and average every day goal oriented people from around the World, come to Coach Dave for his technique, knowledge and ability to attain goals in a safe, effective and always entertaining way 😉
A few tools used by Coach Dave to help you reach your goals:
Muay Thai Kickboxing
Western Boxing
No-Gi Brazilian Jiu Jitsu/Grappling
HIIT (High Intensity Interval Training)
Kettlebells
Olympic Lifting and
Real Talk 😉
Just text "Free PT Consultation" to 619.838.4883 and we'll set up a time that works for you to come in and discuss your goals.
Schedule
Personal Training is available at any pre-determined time. Workout at 6am, 3pm, 9 pm or ANY time in between! We understand that schedules can be hectic and we try to accommodate your fitness training to the best of our abilities.
About Us
Dave Nielsen and his associated trainers are Experienced and Professional Fitness Trainers using the following tools to help you reach your personal health and fitness goals FAST!
Kettlebells
Cross Training
Traditional Weight Training
Olympic Lifting
Resistance Bands
Boxing and Kickboxing
Muay Thai and MMA
Jiu Jitsu/Submission Wrestling
TRX
BOSU
HIIT (High Intensity Interval Training)
Cardio Equipment and more!
QUESTIONS? Text "Free PT Consultation" to 619-838-4883 now to set up your Free Consultation.
Here is an Extreme example of American Boxing Personal Training results:
April Powers a 66 year old client lost 80 lbs in 8 months training with American Boxing Coach Dave (pictured together below at her birthday party in 2002).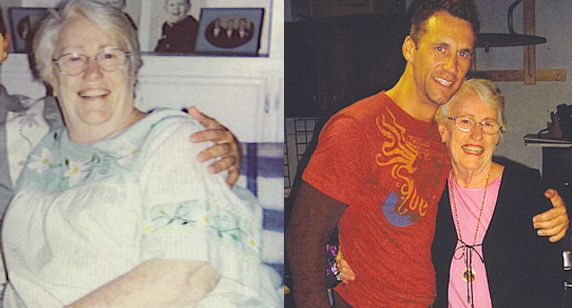 Click here to read some more of our testimonials and watch our video reviews.