Personal Training in Pacific Beach San Diego
Serving Pacific Beach, Clairemont, La Jolla and I-5 Travelers
Highly Qualified Training Available for the following goals: General Fitness, Weight Loss, Sports Enhancement, Combat Sports Competition and Self Defense.
Using the tools and methods of Stott Pilates, Kettlebells, CrossTraining, Boxing, kickboxing and more, Master Fitness Trainers Coach Dave Nielsen and Coach Gina Reyes customize and run you through FUN and SAFE specialized workouts built for your body and your goals!
Location
Private or Personal Training is offered at our Pacific Beach San Diego studio inside Republic Training Center across from Vons on Garnet Ave. in Pacific Beach.
Schedule
Personal Training is available at any pre-determined time. Workout at 6am, 3pm, 9 pm or ANY time in between! We understand that schedules can be hectic and we try to accommodate your fitness training to the best of our abilities.
Cost
For as little as $30 per training session you can work with an Experienced and Professional Personal Trainer in San Diego!
About Us
Dave Nielsen and Gina Reyes are Experienced and Certified Professional Fitness Trainers using the following tools YOU help you reach YOUR personal health and fitness goals FAST!
Pilates
Kettlebells
Traditional Weight Training
Resistance Bands
Boxing and Kickboxing
Muay Thai and MMA
Cardio Equipment and more!
QUESTIONS? Call now and speak with Dave or Gina directly @ 858-581-2694
Our Training Philosophy
"We use a diversity of fitness tools for 1 reason: to find just 1 you will like. If you like it, it stops being a workout and becomes a hobby. A hobby that produces fitness results is a lifetime of fun fitness! That's why we personally love boxing and kickboxing so much…because it's fun! You may like kettlebells, boxing, running or swimming… whatever! We are here to introduce you safely to as many fun fitness options at our disposal. If you like one, you'll do it and results will follow!"
Typical Training Session
If there's is one thing that is consistent with training at American Boxing it is that the workouts are ALWAYS different! The incorporation of Boxing, Stott Pilates, Kettlebells, a Concept 2 Rower and maybe some Calisthenics all in a 30 – 60 minute workout is just 1 example of the diversity that can occur in a fun and challenging fitness session. Our tools are plentiful, our knowledge diverse and add creativity to get amazing. Personal Training with American Boxing is always a fun challenge!
In Workouts we focus on:
Core to Extremity Strength
Multi-faceted Coordination
Corrective Stretching
Functional Flexibility
Relevant Endurance
Walking Energy
Dexterity and Agility
Postural Correction
Self Confidence and
Overall Health
Here is an Extreme example of American Boxing Personal Training results:
April Powers a 66 year old client lost 80 lbs in 8 months training with American Boxing Coach Dave (pictured together below).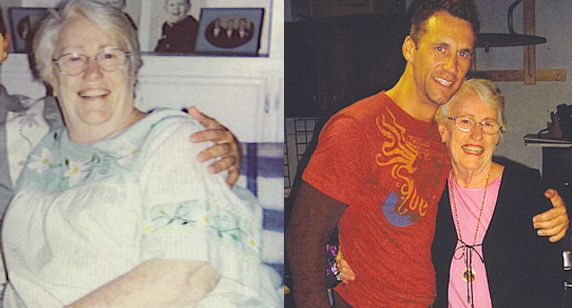 Click here to read some more of our testimonials and watch our video reviews.