Personal Training in Pacific Beach San Diego
Serving Pacific Beach, Mission Beach, Clairemont, La Jolla and I-5 Travelers
"Personal Training with Coach Dave is more than a fitness experience, it's life changing!" ~Ashley Garcia, Client
Comments, testimonials and reviews of the personal training experience from people like Ashley are common, will you be the next?
Goals such as Weight Loss, General Fitness, Sports Enhancement and Self-Defense are all easily within your reach working with an American Boxing trainer.  Coach Dave himself vets his trainers each training under him typically for many years.  The technique, experience and all the physical parts to you reaching goals are a given with American Boxing, the important part is the people.  There is an AB trainer that suits each personality type, which is THE KEY, to working with someone that is there to help you reach your goals.
Kettlebells, TRX, HIIT (High Intensity Interval Training), Cross-Training, Boxing, kickboxing, Muay Thai, Pilates and countless other tools are at the disposal of AB trainers, however the best tool at our disposal is  life experience.  Come learn for yourself with a Free 15 minute Consultation.
Just text "Free PT Consultation" to 619.838.4883 and we'll set up a time that works for you to come in and discuss your goals.
Schedule
Personal Training is available at any pre-determined time. Workout at 6am, 3pm, 9 pm or ANY time in between! We understand that schedules can be hectic and we try to accommodate your fitness training to the best of our abilities.
About Us
Dave Nielsen and his trainers are Experienced and Certified Professional Fitness Trainers using the following tools to help you reach your personal health and fitness goals FAST!
Pilates
Kettlebells
Cross Training (although he disagrees with the philosophies and mentality, Coach Dave has been CrossFit Certified for nearly a decade)
Traditional Weight Training
Resistance Bands
Boxing and Kickboxing
Muay Thai and MMA
TRX
BOSU
HIIT (High Intensity Interval Training)
Cardio Equipment and more!
QUESTIONS? Text "Free PT Consultation" to 619-838-4883 now to set up your Free Consultation.
Here is an Extreme example of American Boxing Personal Training results:
April Powers a 66 year old client lost 80 lbs in 8 months training with American Boxing Coach Dave (pictured together below at her birthday party in 2002).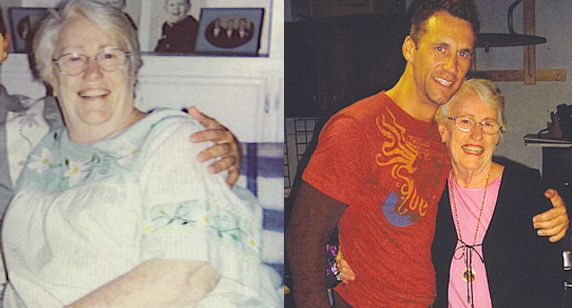 Click here to read some more of our testimonials and watch our video reviews.